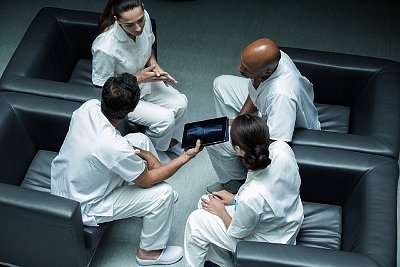 In 2014, the Oregon Legislature's Healthcare Workforce Committee recommended the development of a statewide, inclusive primary care GME Consortium and stated that "a GME Consortium would allow all those who would benefit from a community-based primary care residency program to participate, to share the risks and rewards and support each other through the process."
To implement this recommendation, in 2014, the Oregon GME Planning Group was formed. Planning Group members included representatives from both of Oregon's medical schools, OHSU and the College of Osteopathic Medicine of the Pacific Northwest (COMP-Northwest), two health systems, the Oregon Health Authority, the Area Health Education Center of Southwest Oregon (AHECSW), and several experts in Family Medicine GME. The Planning Group received a generous grant of $506,000 from Moda Health in late 2014 to begin work. The group selected Tripp Umbach, a Pittsburgh-based consulting firm, to guide Consortium development.
The Oregon GME Consortium began with 14 member organizations, all committed to expanding access to health care in rural and underserved Oregon. For two years, the Consortium was a project of the Area Health Education Center Southwest, allowing the fledgling organization to grow and serve Oregon while under the oversight of a long established not-for-profit. In 2016, the Consortium was awarded a $1.5 million grant from the State of Oregon to continue the work of encouraging hospitals, clinics and health systems outside of the Portland Metro area to consider hosting residency programs.
While the initial plan was to have the Consortium act as the Sponsoring Institution for any newly developed residency programs, the Board ultimately decided that a better use of Consortium resources would be to support hospitals and clinics with grant funding for development, provision of expertise and technical assistance. After receiving the grant from the State of Oregon, the Consortium issued a Request for Proposals and began considering grant requests from hospitals and clinics around the state.
In 2017, the Consortium Board of Directors decided that the organization was ready to become an independent 501C3 and applied for, and received, tax exempt status. Since then, the Consortium has awarded grants to determine program feasibility, program planning and development, and to support a new Oregon family medicine residency network. The Consortium has been able to provide support for the initial stages of program planning, well before any federal dollars become available.
Success stories include the development and launch of the Roseburg Family Medicine Residency Program, in partnership with Aviva Health and Mercy Medical Center, which welcomed its first cohort of trainees in 2020. This new program is providing medical school graduates with an excellent experience that will ready them for a rural practice. Two Rural Training Tracks, where trainees begin training at an urban center and complete the last two years in a rural hospital, are in development in Oregon, with ongoing assistance from the Consortium. When launched, these RTTs will train doctors in Newport, in partnership with Samaritan Health Services in Corvallis and in Madras, in partnership with St. Charles Medical Center and OHSU. Other hospitals and clinics are beginning the planning process with assistance from the Consortium.
Currently, the Consortium consists of 9 member organizations, each with a representative on the Board of Directors. These organization are:
Mercy Medical Center, Roseburg
St. Charles Medical Center, Bend
Good Shepherd Medical Center, Hermiston
St. Anthony's Hospital, Pendleton
Samaritan Health Services/Good Samaritan Regional Medical Center, Corvallis
Providence Health System
College of Osteopathic Medicine Pacific NW
Oregon Health and Science University
Area Health Education Center SW, Roseburg